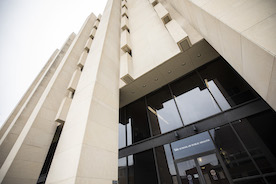 Friday, February 25, 2022
Dear Members of the Yale School of Public Health Community,
We write to share plans for the Yale School of Public Health (YSPH), based on your input over the past several months through listening sessions, meetings, and written correspondence. Our experiences with the pandemic and other public health crises, both past and present, make one thing clear: the world has a need for leaders educated in public health principles and practice, especially the interventions made possible through transformative research in the field.
Yale University will respond to this global need by transitioning YSPH into a self-supporting, independent school and pledge $150 million of endowment toward YSPH's teaching, research, and practice. The university is committed to building on the school's historic strengths and ensuring its future excellence. For over 100 years, YSPH has advanced the field of public health—driving innovations like the rapid development of saliva-based COVID-19 testing; ground-breaking research on health equity; and insights into infectious diseases like Ebola, HIV/AIDS, and tick-borne illnesses. Today, the school offers fifteen different joint degree programs with other fields of study. The changes ahead will support YSPH's contributions worldwide.
The next dean will lead YSPH's transition and ultimately will have autonomous responsibility for the school's budget. The dean of YSPH is appointed by the president, and we will launch a search in the coming week. Melinda Irwin, associate dean of research and Susan Dwight Bliss Professor of Epidemiology (Chronic Diseases), will serve as the chair of the search advisory committee. The search firm Isaacson Miller will assist the committee with its work. We will be writing to the YSPH community separately about the composition of the committee and how the school's faculty, staff, students, and alumni can provide input. We would like to take this opportunity to thank Dean Sten Vermund for his contributions to the excellence of the school and for building a strong foundation for his successor.
Through a combination of increased endowment support and school-specific fundraising, and with the full cooperation of the Yale School of Medicine (YSM), the next dean will organize YSPH as a free-standing professional school rather than as a department within YSM. Upon the arrival of the new dean, Yale will provide a one-time $100 million contribution to YSPH's endowment to solidify its financial footing and eliminate the subsidy that it currently receives from YSM. Yale will also pledge $50 million of endowment funds as a match to endowment funds raised by YSPH over the next five years. We will soon share this news with the Yale community along with information about matching funds for YSM and the Yale School of Nursing as part of our investment in educating the next generation of health care professionals.
In addition to hearing the community's suggestions for the school's organization, we learned how important improved space is to YSPH faculty, students, and staff. Currently, YSPH is located in multiple buildings across New Haven. We will work with the next YSPH dean to identify opportunities to improve the school's facilities in order to meet current and future teaching, research, and practice needs.
We have experienced a historic crisis that underscores the necessity of public health to the well-being of communities in this country and around the world. We also know that other public health threats require immediate attention, including those resulting from climate change, food insecurity, water scarcity, health inequities, and growth in infectious and non-communicable diseases. Yale is proud to support the YSPH community as it addresses these pressing health challenges and improves local and global health for all.
With warmest regards,
Peter Salovey
President
Chris Argyris Professor of Psychology
Scott Strobel
Provost
Henry Ford II Professor of Molecular Biophysics and Biochemistry
Nancy J. Brown
Jean and David W. Wallace Dean of the Yale School of Medicine
C.N.H. Long Professor of Internal Medicine