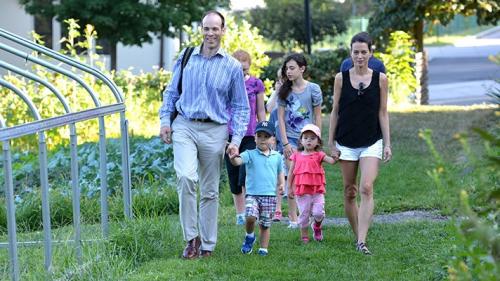 Wednesday, September 2, 2015
Provost Benjamin Polak and other Yale leaders recently welcomed more than 40 new faculty members from various schools to the Yale community.
New members of the Faculty of Arts and Sciences, and faculty in the Schools of Forestry & Environmental Studies, and of Nursing, among other schools, participated in a number of activities as part of Yale's New Faculty Orientation program held Aug. 24-27.  
The four-day event kicked off with a Welcome BBQ hosted at the Provost's House and an outing to the Connecticut Open Tennis Tournament, followed by a full day of presentations and discussion sessions with Faculty of Arts & Sciences Dean Tamar Gendler, Yale College Dean Jonathan Holloway, Graduate School of Arts and Sciences Dean Lynn Cooley, and School of Public Health Dean Paul Cleary. Drawing from his own personal experiences as a Yale faculty member for over 28 years, President Peter Salovey offered a personal welcome during lunch, which included a question-and-answer session.
The orientation program was designed to introduce new faculty to university leaders, acquaint them with resources to support them in their new roles, and to familiarize them with Yale's culture, traditions, and expectations. In addition, the incoming faculty members met their new colleagues from across campus, who spoke about their experiences at different stages of their career. To facilitate these exchanges, Gendler presented each attendee with the gift of a book authored by a Yale faculty member and encouraged them to lunch with the authors to discuss Yale (and their books).
The three-day event culminated with an afternoon of family pizza-making at the Yale Farm using organically grown native ingredients and a Faculty Teaching Academy sponsored by the Yale Center for Teaching and Learning, led by director Jennifer Frederick and Scott Strobel, deputy provost. The event was sponsored by the Office of the Provost in coordination with other Yale schools.
Originally published by Yale Office of Public Affairs and Communication
http://news.yale.edu/2015/09/01/provost-welcomes-new-faculty-family-pizza-making-tennis-and-more