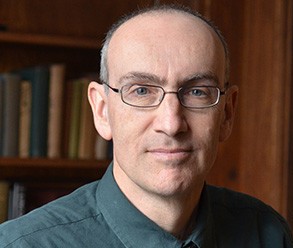 Ben Polak has decided to step down as university provost at the start of the new calendar year to resume his teaching and research as the William C. Brainard Professor of Economics and professor of management.
Over his seven-year tenure, Polak steered the university through tough budgetary challenges, enabling crucial strategic initiatives and academic investments to move forward. Appointed in 2013, Polak is Yale's second longest-serving provost of the past half-century and the fifth longest-serving provost in university history.
"Being provost has been deeply rewarding," Polak said in a message to faculty and staff. "Why then am I stepping down? Because it's time. Seven years is a long stint in this job. … It's good to have turnover in this role, to bring in new ideas, new voices, new perspectives. There are people who can do the job — provide what the university needs now — as well as or better than I can."
In a message to the Yale community announcing Polak's decision, President Peter Salovey said no one is a "more stalwart champion of Yale's educational mission" than Polak.
"Both professionally and personally, I have admired and been inspired by Ben's profound dedication to Yale," Salovey said. "He has been a trusted advisor, a linchpin of the university's leadership team, and an unfailing voice of integrity and excellence. He will be a tough act to follow, but he is also the first person to point out that the university can always benefit from new perspectives and new talents."
Salovey has initiated the process of naming Polak's successor.
"The individual who next takes this office will be deeply rooted in Yale's academic enterprise, experienced in leadership, and well prepared to build on the strong foundation that Ben has laid," Salovey said. "I look forward to writing again later in the semester to announce this appointment."
When Polak began his tenure in January 2013, the university was struggling to regain its financial footing following the great economic recession and was grappling with a structural deficit that left several crucial projects in limbo, including construction of two new residential colleges, an overhaul of the university's STEM-related infrastructure, and competitive faculty recruitment, Salovey noted.
"There was no better person to guide Yale through and out of these challenges than Ben Polak," Salovey said. "His gifts as an economist and professor of management are well known, but perhaps even more important is this: Ben is unafraid to make difficult choices, to take responsibility for those choices, and to work incredibly hard to see them through to fruition."
In 2014-2015, Polak spearheaded a multi-phase cost-saving program that emphasized strategic prioritization within units across campus. Three years later, the university's budget went from deficit to surplus, freeing up resources to pursue the strategic priorities.
John Fabian Witt, the Allen H. Duffy Class of 1960 Professor of Law at Yale Law School, said that Polak possesses "the highest scholarly values, which is really valuable to have in academic leadership."
"Ben exercised exquisite judgment, focused like a laser beam on the research and teaching mission at the core of the university at a time when it is easy to get distracted from that," Witt said. "This is what really stood out to me about his leadership on campus."
While Polak used his skills as an economist to tame the university's budget problems, his passion as an educator made him an invaluable partner in working with faculty, staff, students, and alumni to develop and frame the university's teaching and research goals, Salovey explained.
"He spent countless hours consulting colleagues across the disciplines, gaining insights from faculty committees, and observing the mechanisms and interconnections that make Yale perhaps the most emphatically multidisciplinary university anywhere," Salovey said.
The fruits of these labors are evident in the multi-disciplinary research happening at the newly opened Yale Science Building as well as in the new hub for the humanities, which is nearing completion on York Street, according to Salovey. At the same time, investments in financial aid and faculty excellence are at an all-time high, he noted. Polak was also instrumental in the effort to establish the Yale Jackson School of Global Affairs, which is on track to become the first professional school created at Yale since the founding of the Yale School of Management, which opened in 1976.
"I think the thing that impresses me most about what Ben did in terms of investment in the sciences and managing the budget is his way of creating robust frameworks for good policymaking," said Anna Pyle, Sterling Professor of Molecular, Cellular, and Developmental Biology and professor of chemistry. "It's one thing to say that one will invest in science and engineering, but it is another thing to lay out a path to strategic planning that is actionable. He accomplished this by seeking advice from diverse constituencies and making bold decisions. He showed very effective leadership."
Jennifer Herdt, the Gilbert L. Stark Professor of Christian Ethics at the Yale Divinity School, said restoring the university's financial stability was a significant achievement that required strong and decisive leadership.
"What I find most striking about Ben Polak as a leader is his modest, self-effacing character; Ben has never been focused on his own power or popularity, but has rather always been single-mindedly focused on the good of the university, and willing to make unpopular decisions in order to safeguard its mission," said Herdt, who is a member of the provost's budget advisory group.
While acknowledging that Polak's decision to step down was difficult news to receive, Salovey expressed his delight that a new generation of students and scholars will be inspired by the provost's passion for teaching and research.
Yale is — we all are — very fortunate that his contributions to the university as an educator and researcher will continue for many years to come.
President Peter Salovey
"Yale is — we all are — very fortunate that his contributions to the university as an educator and researcher will continue for many years to come," he said.
A graduate of Cambridge University, Polak earned his M.A. at Northwestern University and his Ph.D. at Harvard University. He joined the Yale faculty in 1994.
An expert on decision theory, game theory, and economic history, he has published numerous papers in leading economic journals. His work on game theory ranges from foundational theoretical work on common knowledge to applied topics in corporate finance and law and economics. At the time of his appointment to provost, his work explored how individuals choose when faced by uncertainty and how societies choose when faced by inequality. Earlier work sat at the intersection of economics and history. He served as chair of the Department of Economics from 2010 to 2013.
Polak taught a popular game theory class at Yale, which is available as a Yale online course, and he has been honored with three major university teaching prizes: Yale College's Lex Hixon '63 Prize for Teaching Excellence in the Social Sciences (2006), the Department of Economics' Graduate Teaching Prize (2005), and the William Clyde DeVane Medal for undergraduate teaching and scholarship at Yale College (2005).
In his message to faculty and staff, Polak mentioned that he will leave the provost's office with a more well-rounded sense of the Yale community than he had when he accepted the post seven years ago.
"When you're provost, you discover parts of Yale that you didn't know about before — the labs, the galleries, the athletics fields, the concert halls," he said. "It's an amazing place. But the best discovery is the staff, the students, the faculty, the alumni — the community that stretches from the provost's office to every corner of campus. They make Yale that amazing place."