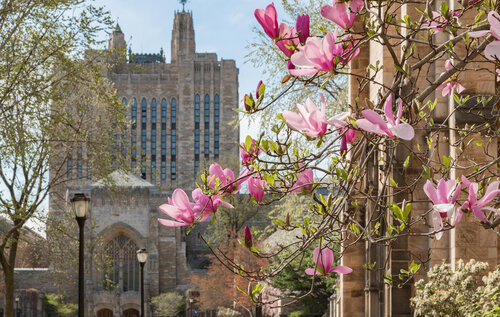 Dear Members of the Yale Community,
We write to share with you spring 2021 plans, which are shaped by your extraordinary work this semester to meet the challenges of teaching, learning, and conducting research amid a pandemic. We have been able to contain the spread of COVID-19 on our campus to date while preparing the next generation of thinkers and leaders, nurturing ideas that improve the world, and pursuing knowledge that can change lives.
Thank you for adhering to the university's health protective policies and fulfilling our responsibilities to one another and our neighbors. Since August 1, Yale has tested nearly 9,000 undergraduate, graduate, and professional school students for COVID-19 multiple times, and twenty-one students have tested positive. Those who tested positive have isolated themselves and participated in Yale's contact tracing program so close contacts can quarantine. Of course, we are only halfway through the fall semester, but we know our community will continue to safeguard public health while advancing Yale's mission.
SPRING 2021 ACADEMIC CALENDAR
Today we announce the spring semester calendar for Yale College based upon the recommendations of the University Calendar Committee. Graduate and professional school students will receive their academic calendars from the deans of their schools in the coming days.
This calendar allows us to build on what we have been able to achieve so far in the fall term. Although COVID-19 is well controlled locally, cases are surging in many other parts of the country. To help maintain the health of our home city and state, we must minimize travel outside of Connecticut.
For the spring semester, we will adjust the academic calendar by delaying the start date and eliminating spring break. Most schools, including Yale College, will begin classes on February 1 and end instruction on May 7. Five break days will be distributed throughout the semester to decompress the pace of the spring. Unless undergraduates receive permission to travel, they must remain in Connecticut during their days off.
Yale College Spring 2021 Calendar
| | |
| --- | --- |
|  Feb 1 |  Term starts; classes begin |
|  Feb 22 |  First break day |
|  March 9 |  Second break day |
|  March 19 |  Last day of first half-term courses |
|  March 22 |  First day of second half-term courses |
|  March 24 |  Third break day |
|  March 26 |  Midterm |
|  April 8 |  Fourth break day |
|  April 23 |  Fifth break day |
|  May 7 |  Classes end |
|  May 8-12 |  Reading period |
|  May 13-19 |  Final exam period |
|  May 19 |  Term ends |
|  May 20-24 |  Senior week |
|  May 24 |  University Commencement |
Undergraduate students will be able to move into on-campus residences on designated days in late January. Students will be required to take a pre-arrival test and follow testing and quarantine protocols upon arrival as set by the State of Connecticut and the university. Students will then maintain a regular testing schedule throughout the semester. All undergraduate courses will be taught fully online during the arrival quarantine period. The Yale College Dean's Office will send students details about undergraduate move-in, testing, and quarantine in the coming weeks.
MAINTAINING A DE-DENSIFIED CAMPUS AND CONTINUING OUR COMPREHENSIVE PROTOCOLS
We will invite sophomores, juniors, and seniors to live on campus or in the New Haven area during the spring semester. We encourage first-year undergraduates to continue their studies with Yale's faculty remotely. Sophomores and first-year students who enroll for both the fall and spring semesters, with at least one term taken remotely, will be eligible to take two courses in Yale Summer Session. Yale will cover the cost of tuition for these two summer courses.
In the spring semester, as in the fall, all Yale College courses will be available remotely, taught with some combination of synchronous and asynchronous components. A few courses will also offer in-person instruction with physical distancing and other precautions.
Even with strong adherence to physical distancing and mask-wearing this semester, students are nonetheless sharing knowledge, connecting with one another, and conducting research. They also are finding new ways to perform public service in New Haven and in other communities. The spring, like the fall, will present unique and unexpected obstacles, but we know from experience that Yale students are up to the challenge.
GRADUATE AND PROFESSIONAL SCHOOL COURSES AND RESIDENTIAL LIVING
Graduate and professional school students were among the first to return to campus after we limited university operations last spring. By all measures, they have done an excellent job of carrying out their studies, conducting research and engaging in scholarship, wearing masks, physically distancing, and avoiding large gatherings of people.
In the spring, graduate and professional school students will continue to have the option of staying in on-campus housing. The same COVID-19 preventative measures in effect in the fall semester will be in effect in the spring. The dean of each school will provide students detailed information about coursework in the coming weeks, but most courses will be taught remotely or with a mix of online and in-person options.
TEACHING, RESEARCH, AND OTHER OPERATIONS FOR FACULTY AND STAFF
Whether working on campus or remotely at home, our faculty and staff have ensured that we can continue to educate students and create knowledge, coordinate with city and state officials to share best practices and strategic planning, and carry out clinical operations to save lives. We remain committed to supporting everyone at Yale who has been working tirelessly to sustain Yale's mission.
We anticipate that staff required on campus at the start of the spring semester largely will be consistent with current staffing requirements for the fall semester. As we approach the spring semester, managers will inform any additional staff about whether they are needed on campus. Until then, anyone who can work from home should continue to do so. Provost Scott Strobel and Jack Callahan Jr., senior vice president for operations, will provide more information in the coming weeks.
CONTINUED COVID-19 PREVENTION
We know from our experiences since March that it is difficult to predict the spread of COVID-19. Based on how well members of our community have responded to the pandemic so far, we will extend all health protective policies into the spring semester. These include previously announced rules concerning travel, visitors, events and gatherings, dining, testing, and contact tracing, as well as other policies and health guidelines. We remind you that no student in the New Haven area—whether enrolled, withdrawn, or on a leave of absence—may host, invite others to, or attend a party with more than ten people, on or off campus.
We are monitoring COVID-19 prevalence, the development of vaccines and treatments, the implementation of rapid testing, and other factors that could affect our plans for the spring. We will keep you apprised of any changes.
***
We are deeply grateful to all those who have gone above and beyond during this turbulent period to ensure that we can emerge from this crisis with strength and resilience. We not only built a system that can contain the spread of COVID-19 while allowing us to realize our mission and aspirations, but we also have demonstrated our care for one another by consistently practicing physical distancing, mask-wearing, hand washing, and other health protective behaviors. We look forward to working with you to finish the fall semester as strongly as we started and continue our efforts in the spring.
With best wishes for your health and safety,
Peter Salovey
President
Chris Argyris Professor of Psychology
Scott Strobel
Provost
Henry Ford II Professor of Molecular Biophysics and Biochemistry