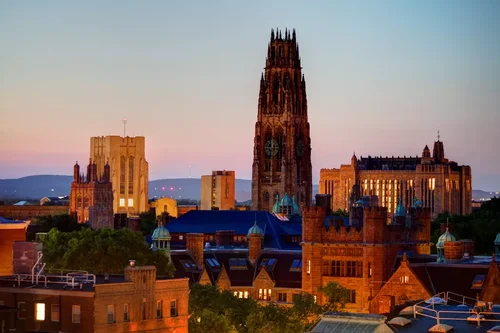 Summary: In response to the rise in the spread of COVID-19, the university is modifying several existing health and safety measures. This message explains the new guidance and reinforces the need for our collective efforts in staying vigilant and acting with caution.
Dear Yale faculty, staff, and students,
As you likely know, we are seeing a rise in the spread of COVID-19 in the New Haven community and across the state.  Consistent with local and national trends, we are also experiencing increased levels of infection on our campus among students, faculty and staff.  We have observed, as has the State, that the sources of viral spread in our community are quite frequently associated with social gatherings, often with extended family or friends, where facemasks are removed; with dining indoors at a restaurant; or during travel to campus from out-of-the-area locations.   
On Monday, Governor Lamont announced his decision to move the entire State of Connecticut from the Phase 3 reopening scenario back to a Phase 2.1 scenario, effective today.  Yesterday the Governor published the rules associated with Phase 2.1 and designated New Haven as 'red' in the State's COVID-19 surveillance system.  'Red' status is applied to those towns where these cases exceed a two-week daily average of 15 cases per 100,000 population.  
The movement to Phase 2.1 imposes limits on gathering sizes in both commercial venues and private residences.  It also calls for restaurants to reduce occupancy and close at 10 p.m.  The Governor is strongly encouraging all Connecticut citizens to limit travel and remain at home whenever possible, especially between the hours of 10 PM and 5 AM.
Based upon our own experience and in alignment with the announcement of the Governor, we write to reinforce and modify our health and safety measures. Our goal is to complete the fall semester safely while preserving the academic mission of the university.  
We ask every member of our community, including all students, faculty and staff, to review and adhere to the policies set out below. 
Gatherings
Gatherings that involve serving food or drinks where masks are removed are strongly discouraged.  
In-person dining in restaurants should be avoided. Take out or food delivery service is recommended as a safer alternative.
All on-campus events, and all gatherings of more than 10 people, must be approved by the school or unit's Health and Safety Leader (HSL), and in no case may exceed 25 people indoors or 50 people outdoors. 
Restrictions on attending or hosting parties remain in place for students.  Additionally, the State's new Phase 2.1 rules prohibit gatherings larger than 10 people in private residences and apply to all members of the community.
Travel 
Travel outside of the New Haven region during this period is discouraged for all members of our community until further notice.
Graduate, professional, and undergraduate students may not travel outside of Connecticut for the remaining two weeks of the residential semester. If faced with an emergent need to travel, they must obtain preapproval from their school's Health and Safety Leader.  
Students leaving campus prior to Thanksgiving are strongly encouraged to receive a negative test result no more than 72 hours prior to their departure to protect the health of friends, loved-ones, and those in destination communities.
Staff and faculty who plan to travel are also encouraged to get tested and receive a negative result prior to departure.  
Members of the campus community may schedule tests through the Yale COVID-19 Screening Program.  Undergraduates should remain on their regular testing schedules.  Please refer to the COVID-19 Coordinator's message for more information.
Testing
COVID-19 testing frequency for certain high-contact staff will increase to twice a week. 
Faculty, staff, and graduate and professional students continue to be eligible for regular testing and are strongly encouraged to participate in voluntary testing up to twice weekly. 
Testing will continue to be available during and after Thanksgiving break for members of the Yale community who remain in New Haven.
Commuting and Visiting Faculty
Full-time faculty who reside outside Connecticut must not commute to campus unless there is a very compelling reason to do so.  This applies to travel from any state, not just those affected by the Connecticut travel advisory.
Faculty who reside outside the state and who are not full-time and teach only on an episodic basis must teach remotely.   
Remote Working
All staff who can work remotely must continue or resume doing so.
Department leaders should review the list of staff who are coming to campus and identify opportunities to reduce on-campus presence.
Athletics
Varsity athletics will remain in Phase I, which is limited to socially distant conditioning and strength training activities, through the remainder of the semester.  
Intramurals will remain limited to select activities, which have been approved by the Health and Safety Leader and in which social distancing can be maintained.
These measures may change as the situation on our campus or in our community warrants, and as government guidance demands. Should any of these policies require adjustment, we will communicate them promptly to the university community. 
We are grateful for the steadfast efforts of each of you to stay safe and stay together despite the challenging times. This pandemic has required us to behave in ways that are not conducive to typical social interactions.  While the upcoming holiday season will bring some much-needed respite, we recognize that many of us will still not be able to spend the holidays with loved ones in traditional ways.  Despite the difficult nature of our current circumstances, our community has come together with extraordinary resilience this year. 
There are just a few weeks left in the residential portion of this semester. Let's continue our efforts as we complete the semester, recognizing that our collective actions will impact the health and well-being of our entire community. 
Thank you for your continuing vigilance and care. 
Sincerely,
Scott Strobel
Provost
  
Stephanie Spangler
COVID-19 Coordinator
Vice Provost for Health Affairs and Academic Integrity