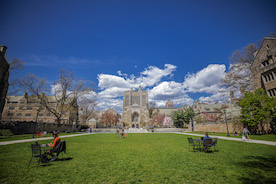 Dear Members of the Yale Community,
Based on public health conditions and new guidance from the Centers for Disease Control (CDC), we write today to announce that we will modify Yale's indoor masking requirements and our events, gatherings, and meetings policies on Monday, March 21, 2022.
Our community's adherence to health and safety protocols over the past two years of this pandemic is exemplary. We answered the call to get vaccinated, resulting in a campus in which nearly all (95%+) faculty, students, and staff received the vaccine. Adherence to our booster requirement also is very high among students and increasing among faculty and staff. The regional surge in cases from the Omicron variant in December and January has abated. Hospitalizations have declined significantly, and effective therapies to prevent and treat serious COVID-19 illness are available.
In our campus community, the numbers of new COVID-19 infections among faculty and staff remain low, and those among graduate and professional students are stable. There has been a recent increase in undergraduate student cases; however, we have seen no student hospitalizations nor evidence of broader transmission in workplaces or classrooms.
These conditions, along with the updated CDC guidance detailed by Dr. Spangler in her recent message, allow us to announce the next measured steps toward a resumption of all on-campus activities.
Updated Masking Guidance
As of March 21, 2022, masking will be optional except in the following settings:
In classrooms and other instructional spaces
On campus transit vehicles such as buses
In healthcare facilities such as Yale Health and Yale Medicine
In addition to these locations, masking is still required for those who have COVID-19 symptoms or test positive, are a close contact of someone who has tested positive, and/or have a university-sponsored exemption to vaccination. Masks are strongly encouraged for those who are fully vaccinated but have not yet received a booster.
We also recommend that community members continue to carry a mask so they are prepared to use them in spaces where it is required or desirable. High-quality masks, such as those Yale is distributing, not only protect the wearer from transmitting infection but also from becoming infected.
We recognize that some of us will welcome this policy change, and others will still feel hesitant to unmask regardless of improved public health conditions. For most, choosing whether to mask will be a personal decision reflecting individual circumstances—such as underlying health conditions or caretaking responsibilities for those at higher risk—as well as comfort levels. As we move forward, we ask that mutual respect and civility continue to guide our behavior.
Modifications to Events, Gatherings, & Meetings Policies
As of March 21, 2022, university gatherings will proceed in accordance with revised health and safety guidelines and without the need for approval by the COVID Review Team (CRT). These gatherings may include invited community members and hosted visitors who are fully vaccinated and boosted. The events should follow:
Specific gathering requirements provided by the host school or unit
Facility capacity recommendations
The CRT remains available to provide consultation and guidance on health and safety measures, particularly for large university events.
Looking Ahead
As we have throughout the pandemic, we will monitor the public health situation closely and adjust our guidance if there is significant change in the pandemic. We look forward to a more complete resumption of on-campus activities in the coming weeks, and we are continuing with our plans for in-person Commencement ceremonies in May.
During this time of transition, it is essential that we remember how different this pandemic experience has been for each member of our community. Some of us have had COVID, some have not. Some of us have lost loved ones and continue to mourn family and friends. Still others have missed in-person interactions with loved ones, students, teachers, colleagues, and mentors. And some of us face personal or family circumstances that require additional vigilance and protections. Everyone has felt the impact of this pandemic, and this is a time for grace and compassion—for ourselves and for one another as we do even more to come back together as a community.
We are grateful for our community members' unwavering dedication to keeping each other safe throughout this pandemic. We are grateful, especially, to the dedicated staff who come to campus every day to feed our students, maintain our facilities, operate testing and vaccination sites, provide health and safety guidance, and deliver essential clinical care, among so many other essential contributions, all of which have sustained our community. Our work together makes it possible to envision brighter days ahead.
Sincerely,
Scott Strobel, Provost
Jack Callahan, Senior Vice President for Operations
Stephanie S. Spangler, Vice Provost for Health Affairs and Academic Integrity and University COVID-19 Coordinator
Yale's full masking guidance is available on the EHS website.