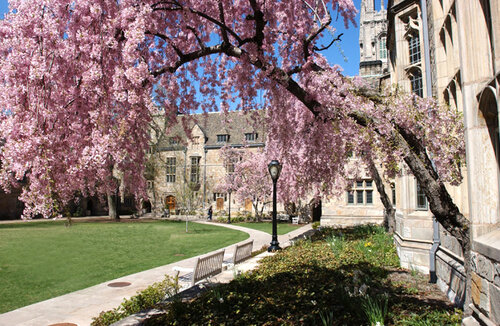 Wednesday, March 10, 2021
To: Yale Faculty and Staff 
Dear Colleagues,
On March 1, we communicated our plans to move forward with a target date of August 1, 2021, for a return to campus for staff currently working remotely. As you can appreciate, there are many questions to address and decisions to make as we plan to return to campus. Additional information will be forthcoming. 
Today we write to inform you about several one-time modifications to our employee benefits that we hope will ease some of the ongoing pandemic-time challenges we continue to face. 
Employee Healthcare Contributions
We had previously announced that the regular increase in healthcare contributions would be delayed from January 1, 2021, to July 1, 2021. We are now pleased to share that these contributions will not increase until January 2022 for faculty and managerial & professional staff. New contribution rates will be provided in the fall and will go into effect on January 1, 2022.
Flexible Spending Accounts
Because of the passing of the Consolidated Appropriations Act 2021, which was signed into law last year, the 2020 Flexible Spending Account (FSA) grace period, which was previously scheduled to end on March 15, 2021, will now be extended until December 31, 2021. Participants with remaining 2020 balances in their Healthcare and/or Dependent Care FSA accounts will have until December 31, 2021, to incur and submit claims for reimbursement. 
In addition, Dependent Care FSA participants with remaining 2020 account balances will be eligible for reimbursement of expenses incurred by dependents up to 14 years old through the remainder of 2021. 
In the coming months, the University will also offer existing Healthcare and Dependent Care FSA participants a one-time opportunity to adjust their FSA elections prospectively. Additional information on this one-time opportunity will be distributed in the coming weeks. 
Paid Time Off (PTO) Buy Out and Carryover for Managerial and Professional (M&P) Staff
The University encourages staff to maintain a healthy work-life balance through the utilization of PTO. Last year, the University instituted an extension of unused PTO in excess of the maximum carryover (PTO Max Extension). Many staff, however, have been unable to use much of their PTO due to COVID health risks, travel restrictions, and workloads.  
We are pleased to announce that the University will institute the following one-time resolution for any remaining unused PTO Max Extension days for FY20 and FY21. As of June 30, 2021:
Up to the first five PTO Max Extension days will carryover effective July 1, 2021. These days may be used through June 30, 2022.
The next PTO Max Extension of up to 10 days, the University will issue a one-time payment for the value of these days in the August 2021 paycheck.
Any remaining unused PTO Max Extension days will also carryover effective July 1, 2021, and will need to be used by June 30, 2022.
The existing PTO use and policy will resume following this one-time extension and special payment. We hope this extension will continue to allow staff to maintain a healthy work-life balance throughout the upcoming year.  
If you have any questions, please contact the Employee Service Center (ESC) at employee.services@yale.edu or 203-432-5552.
We recognize the extraordinary ways that the Yale Community has come together to carry on the University's mission during the COVID-19 pandemic. Thank you for your service, patience, and perseverance as we continue to operate in these challenging times and prepare for the return to campus.
Sincerely, 
Donna M. Cable
Interim Vice President, Human Resources
Jack Callahan, Jr.
Senior Vice President for Operations
Scott Strobel
Provost