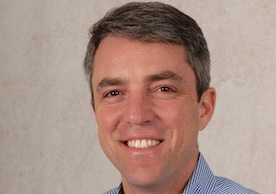 Tuesday, February 1, 2022
Josh Geballe '97, '02 M.B.A. will join Yale as its Senior Associate Provost for Entrepreneurship & Innovation on Feb. 14, 2022.
In the new role, Geballe, an experienced technology professional and current member of Connecticut Governor Ned Lamont's ('80 M.B.A.) leadership team, will help guide Yale in further developing an already robust regional innovation and entrepreneurship ecosystem. Geballe will serve as managing director of the Office of Cooperative Research (OCR) and partner closely with the Tsai Center for Innovative Thinking (Tsai CITY) and its executive director, Clare Leinweber, to enhance collaboration across the university and with partners in the community and industry.
OCR facilitates the translation of research from Yale's labs into products and services that benefit society. It has generated $3.7 billion in venture capital investment and 60 venture-backed startups spun out from the university in the last six years alone, and more than 1,600 patents worldwide since its creation in 1982. Tsai CITY is the hub for Yale's student entrepreneurship community, focused on inspiring those from diverse backgrounds and disciplines to creatively solve real-world problems.
"I'm extremely excited to dive back into the entrepreneurship community in Yale and New Haven," said Geballe. "The amount of groundbreaking research happening at Yale and across the region has already established it as a globally recognized innovation hub. We now have an opportunity to expand and amplify this work. A fast-growing, inclusive entrepreneurial ecosystem in New Haven provides Yale faculty and students a launchpad to have the greatest possible impact on the world. It also assists the university in attracting talent and capital and creating jobs and opportunity for the broader New Haven community."
A graduate of both Yale College and the Yale School of Management, Geballe has served as chief operating officer for the state of Connecticut since February 2020, reporting directly to the governor, and as commissioner of the Department of Administrative Services since January 2019. Geballe has overseen 25 executive branch agencies and 30,000 employees that provide the services of state government.
Prior to his time with the state, Geballe spent 17 years in the technology sector, most recently at Thermo Fisher Scientific, where he was vice president and general manager of the digital science division. He joined Thermo Fisher through its acquisition of Branford-based Core Informatics, LLC in 2017, where Geballe was chief executive officer from 2013, working on cloud-based lab informatics solutions. Previously, Geballe served in a variety of international executive roles during an 11-year tenure with IBM.
"Josh is an excellent fit for this role," said Vice Provost for Research Michael Crair. "It is rare to find someone with his combination of technological expertise and entrepreneurial vision. Under his direction, the university can enhance its partnership with students and faculty and capitalize on the significant momentum we have built in and between the Yale and New Haven entrepreneurship communities."
In Geballe's new role, he said, he wants to help Yale build on that momentum.
"I've lived the full experience in the tech industry, from small, high-growth startups to large, multinational organizations," Geballe said. "I've learned how much value entrepreneurship and innovation create across that spectrum. At Yale, I'm eager to help faculty and students do the same—to translate their ideas, research, and discoveries into maximum impact in the world."
"Josh Geballe is one of the hardest workers I know, whose dedication to the people of Connecticut and the strength of our state deserves applause," Governor Lamont said in a release. "I commend him for his service and I wish him nothing but the best in all of his future endeavors."
Geballe said he is impressed by the university's previous success in technology transfer and new ventures. He listed as examples Alexion Pharmaceuticals and cancer biotech company Arvinas Inc., both founded by Yale faculty. Arvinas will be a core tenant, alongside the university, in New Haven's new 101 College Street bioscience tower. Geballe hopes to further expand and support the university's existing innovation footprint in areas like social entrepreneurship, planetary solutions, data science, quantum science, and more.
"Yale has set many ambitious goals in our University Science Strategy and University-Wide Academic Priorities," said Provost Scott Strobel. "Our ability to think creatively and innovate in existing areas of study, and anticipate emerging fields and trends, will be critical to Yale's future success. The experience and enthusiasm Josh is bringing to Yale are just what we need to drive these initiatives."