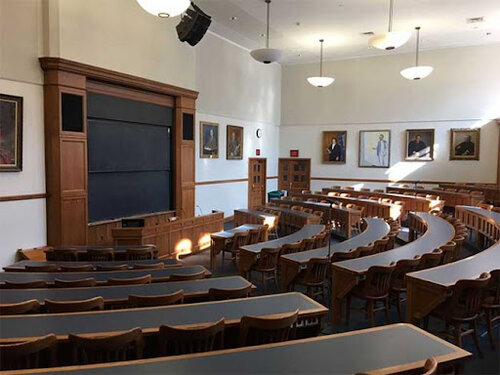 Wednesday, August 25, 2021
Summary: This email clarifies several important faculty policies for the fall semester. 
Dear Faculty Colleagues,
As we begin this new academic year, I am inspired by your exemplary commitment to Yale's teaching and research missions. We have come together during uncertain times, in remote and hybrid environments, and amid the personal challenges the pandemic has levied for so many, to provide exceptional learning experiences for our students. This semester represents a return to in-person instruction and the fulfilling interactions that highlight our work with students.  
As you know, we have implemented many safeguards to protect the health and welfare of our Yale community this semester. These include robust testing and contact tracing programs, which are supported by strict vaccine and masking mandates that allow us to prioritize both our community's wellbeing and in-person teaching and learning. As of yesterday, 96% of students, 91% of faculty, and 90% of staff have been fully vaccinated and have recorded their vaccination status. In Yale College, approximately 97% of undergraduates have been fully vaccinated, and the numbers will continue to rise. This is a remarkable achievement that furthers our ability to enter a new—albeit unusual—academic year with cautious optimism. 
I write today to clarify several instructor-specific university policies for the fall semester. These policies will be published in the form of FAQs on the Workplace Guidance website. Please bookmark this page, as the university will continue to update it as additional questions arise throughout the semester.
1.  SUPPORT FOR THOSE CARING FOR CHILDREN AND ELDERS
The pandemic has been challenging for all of us, but it has posed unique difficulties for members of our community who are caregivers. To further support our caregivers through the coming months, we are extending and expanding the pandemic-time Crisis Care Assist program to support those who may face child or eldercare challenges due to COVID-19. The extended program, which was previously scheduled to conclude on September 3, provides an additional 10 days of back-up care for a total of 40 days that can be used through December 31, 2021. 
Instructors who may face dependent care challenges because of COVID-19 are encouraged to use this benefit, which reimburses faculty, staff, post-doctoral associates, post-doctoral fellows, and students at the Graduate School of Arts and Sciences for care provided by caregivers from the Bright Horizons Company or those in their personal networks. For more information, visit the WorkLife Office website or email worklife@yale.edu.  
2.  MASK-WEARING DURING COURSE INSTRUCTION
On July 30, we announced that all individuals—vaccinated or not—should wear masks in communal indoor spaces on campus. Fully vaccinated instructors (including graduate student instructors of record) may choose to remove their masks when they are teaching in the classroom under certain circumstances. Instructors may remove their masks only if they maintain a 12-foot distance from all others in the classroom while unmasked. Note that the 12-foot distancing rule will preclude instructors from choosing to unmask in some classrooms or when engaged in some modes of instruction. Yale's mask guidance page will be updated in the coming days to include more specific guidance for instructors.  Please consult this site as you make your decisions about masking. As a reminder, students are not permitted to remove their masks in the classroom.
3.  INSTRUCTORS WHO ARE AT EXCEPTIONALLY HIGH RISK IN THE FACE OF COVID-19
 
Instructors who believe they are at exceptionally high risk for severe COVID-19 infection due to an underlying medical condition may feel that, even with the health and safety measures the university has in place, they need additional accommodations for their on-campus activities.    
In such cases, the instructor should complete and submit an application for accommodation to the Office of Institutional Equity and Accessibility (OIEA). OIEA will review the request and associated medical documentation and information that is provided. If OIEA concludes that the medical condition qualifies as a disability, OIEA will consult with the relevant dean, chair, or supervisor to determine if a workplace accommodation (such as remote work) is possible. 
4.  INSTRUCTORS WITH HOUSEHOLD MEMBERS WHO ARE AT EXCEPTIONALLY HIGH RISK IN THE FACE OF COVID-19
Faculty with severely immunocompromised household members face additional challenges due to the risks and uncertainties of the pandemic. These individuals may receive medical advice not to travel outside of their homes. In such cases, the faculty member may make a request for work condition modifications to the dean or dean's designee.  The faculty member will be informed of how to provide documentation from their household member's medical provider to the Yale Health Medical Review Committee, chaired by Dr. Jenna McCarthy. If the Medical Review Committee concludes that the faculty member must remain in the home and not come to campus, the dean or chair will decide if a work condition modification (such as remote work) is possible. If your school or unit has announced a separate procedure for household member-based requests, please follow the process outlined by your dean.
5.  INSTRUCTORS WHO REQUIRE APPROVALS FOR SHORT-TERM REMOTE TEACHING  
In cases when it is temporarily impossible for a faculty member to teach in person (for instance, due to a COVID-related quarantine, short-term caregiving duties, or a delay in receiving a visa), short-term remote teaching may be necessary. While changes that affect less than a single week of class do not require special approvals, those teaching classes remotely for longer than a week should seek approval in accordance with their school's or unit's policy.
If you experience cold or flu-like symptoms this semester, please do not come to campus. You should reach out to a health care provider for guidance and seek a symptomatic COVID-19 test. Please employ alternative short-term solutions for your course such as rescheduling your class or temporarily transitioning to hybrid teaching.   
6.  TEACHING STUDENTS WHO ARE SICK, IN ISOLATION, OR IN QUARANTINE
Instructors are encouraged to be as accommodating as possible—to the extent pedagogically and practically feasible—with students who are required to miss class because they are experiencing cold symptoms or are in isolation. While instructors may make short-term individual arrangements for remote instruction for students who are in temporary quarantine or isolation, they may not approve such arrangements for a period of more than two weeks. Longer-term absences must be approved by the student's dean or the dean's designee. Deans or their designees have the agency to determine reasonable school- or unit-specific arrangements. 
7.  INSTRUCTORS WHO HAVE BEEN EXPOSED TO COVID-19
Yale continues to follow current CDC guidance for COVID-19 exposures. Vaccinated individuals who are exposed to someone with COVID-19 do not need to quarantine if they are asymptomatic. Close contacts of a person who tested positive for COVID-19 will be required to schedule asymptomatic tests, monitor symptoms, and wear a mask in all public spaces. It is not necessary to alter your instructional plans unless otherwise directed by your health care provider.
8.  ACADEMIC MEETINGS
Faculty meetings and departmental gatherings for academic purposes may be conducted virtually, in person, or in a hybrid setting without seeking formal permission from the Health and Safety Leader. The setting should be determined by the business to be conducted in the meeting. Meetings held in person should follow the guidelines for in-person course instruction: they should be held in classroom or conference room settings on campus, all participants should be wearing a mask, food and drink are not permitted, and vaccine-exempted participants may attend in person only if they maintain social distance from others and are compliant with required testing.  All other gatherings (including on- or off-campus social gatherings) must comply with the university's events, gatherings, and meetings policy.
As President Salovey wrote last week, it is exciting to come together this year as a vibrant and creative community of people from all parts of the world and experience all that our university offers. I also encourage you to attend the virtual townhall meeting that President Salovey will host tomorrow, featuring many of the experts who guide our university's health and safety policies. Thank you for taking the necessary precautions to protect Yale and our surrounding communities and for all that you do in support of our critical educational and research missions.
I offer my best wishes for the new academic year.
Sincerely,
Scott Strobel
Provost