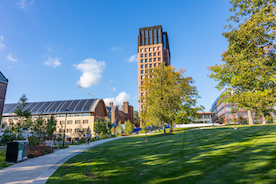 Wednesday, October 26, 2022
This message offers an annual update on new and ongoing facilities improvements on campus in support of Yale's academic missions.
Dear Members of the Yale Community,
With the 2022 fall semester fully underway, I am increasingly optimistic that we will experience a complete academic year that resembles our times together before the COVID-19 pandemic. It has been rewarding to witness classrooms, residential colleges, labs, and performance spaces once again teeming with activity. It has also been gratifying to experience Yale faculty, students, and staff creatively combining different work modes to best connect with each other. It is wonderful to feel that sense of community return to our campus. 
Navigating Spaces, Facilitating Connections
As you explore, or reexplore, our campus this year, you will find some prominent academic buildings obscured by blue construction fencing. I write today to tell you what is underway behind these curtains and to outline current and future building projects that will help us advance Yale's academic missions of research and scholarship, education, preservation, and practice. Each of these projects is the result of many hours of planning by Yale faculty and staff who have dedicated their time and effort to defining the programmatic needs for these spaces. We have also benefited from many donors whose generosity has made these ambitions possible. To them and to you, thank you. Thank you for shaping and improving our university's campus in ways that will benefit generations of scholars for decades to come. 
I am hopeful this brief tour of campus, roughly organized from north to south, gives you a sense of what is ahead and the significant momentum we have generated to build the infrastructure that will advance our academic priorities. These projects will increase collaboration across disciplines, departments, and schools and further connect our campus to our home city of New Haven. The projects prioritize green building techniques and low-carbon technology so the new infrastructure we occupy will support our goal of zero operational emissions on campus by 2050. We must lead by example in ensuring that the spaces we build meet the highest standards of sustainability.

Science Hill
Looking toward Science Hill from any direction, you can easily see a major project that has been underway for the past few years in the tallest building on campus. The Kline Tower renovation will produce a new hub for mathematical, statistical, and data-driven research. It is slated to open in the summer of 2023 and will feature 186,000 gross square feet (GSF) of open-concept programming space, including two new floors on the top of the building that have panoramic views of New Haven and its harbor. The facility will be home to the Faculty of Arts and Sciences Departments of Astronomy, Mathematics, and Statistics and Data Science. It will also house members of the FAS Department of Physics and the newly-formed Institute for Foundations of Data Science, which hosted its kick-off event earlier this month. A new concourse at the base of the tower will include a dedicated space for quantitatively-focused teaching and learning managed by the Poorvu Center, with flexible seating to accommodate tutoring and small group sessions. The recently constructed Steep Café, adjacent to Kline, will continue to serve as a central gathering space for the Science Hill community.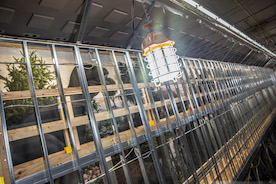 The Peabody Museum is also approaching the completion of its own comprehensive renovation. The infrastructural work will be completed in December. Next year, Peabody staff will reinstall displays and exhibitions ahead of the museum's grand reopening in 2024, when admission will be free to the community. The combination of new classrooms and newly-envisioned galleries will make for enhanced interactivity for research and teaching with Yale's vast collections. The entire building has been reimagined, including a new glass-ceilinged central gallery, more room for exhibitions, and a new education center. We are grateful to researchers, curators, and staff who have kept Peabody's priceless collections safe throughout this complicated renovation. This included temporarily relocating ten fossil skeletons to Canada for remounting (including the famous Brontosaurus) and preserving in-place the renowned, 110-foot mural, The Age of Reptiles, in the middle of a construction site. To follow the renovation progress in real time, please visit Peabody Evolved. 
At the northeastern end of Science Hill, we will soon break ground on one of the largest facilities projects in university history. The Physical Sciences and Engineering Building (PSEB) will serve as a hub for Yale's work in both traditional and emerging fields identified in our academic priorities: quantum computing, engineering, materials science, and advanced instrumentation development. These areas represent enormous opportunity for discovery and innovation. PSEB will be built in several phases. The initial enabling work will begin next summer, and the project is scheduled for completion in 2029. It will total more than 600,000 GSF. For comparison, this is only slightly less square footage than the Yale Bowl. In addition to laboratories, classrooms, and a state-of-the-art clean room, the building will house the Advanced Instrumentation Development Center, a core resource to support instrumentation development across the university. I am eager to see the project get under way as we advance the physical sciences and engineering at Yale.
Planetary Solutions
The university is committed to the aggressive goals outlined in the Planetary Solutions Project (PSP) and has directed significant resources to support them. The project's three themes—Mitigate, Engage, and Adapt—summarize the active approach needed to solve the global challenges of climate change and biodiversity loss through the integration of the natural, health, and social sciences, engineering, and humanities at Yale. To further support these efforts, the university has launched the planning phases of a comprehensive renovation of Osborn Memorial Laboratories (OML). When this work is completed, the new offices, labs, and computational space will serve the Yale School of the Environment and the FAS Department of Ecology and Evolutionary Biology, as well as create dedicated space for the Yale Center for Natural Carbon Capture (YCNCC) and the Yale Institute for Biospheric Studies (YIBS). The YCNCC focuses on developing novel approaches to natural carbon reduction and sequestration, and YIBS emphasizes a cross-disciplinary approach to studying the entire biosphere. All are critical to addressing the potentially catastrophic consequences of climate change. 
The Yale Divinity School's new project, the Living Village, is a further manifestation of the university's commitment to the environment and the goals of the PSP. It is another way that we are using our campus as an active laboratory in pursuit of the most effective ways to reduce carbon outputs and energy usage. The Living Village's graduate housing will be both sustainable and regenerative, in keeping with the performance standards of the Living Building Challenge. It will also include a wide range of green features, such as: a net-positive-energy building, construction with entirely recycled and environmentally friendly materials, open courtyards, constructed wetlands, and utility systems and onsite wastewater treatment for net-positive energy and water use. The project is expected to break ground in the winter of 2023, with a goal of substantial completion in 2024. The Living Village project will serve as a model of what future sustainable construction and housing can look like, which will teach us a great deal about how best to incorporate these principles into our facilities projects going forward. 
Building a Better World Through Social Science
Yale's distinguished work in social science and related disciplines over many decades has been essential to improving the world. It is more important than ever given current, pressing global issues like healthcare and economic inequity, geopolitical instability, and climate change. The university is making substantial complementary facilities investments, much of it centered in the Hillhouse Avenue area, a hub for the social sciences at Yale and the future home to some of the 15 new FAS faculty positions announced earlier this year. 
A new building, at 87 Trumbull Street, will provide a unified space for the Economics department and the Tobin Center for Economic Policy. The new construction is slotted like a jigsaw puzzle piece into the surrounding buildings, creating new connections between them. Following the move of the Economics department, we will undertake renovations of 24 and 37 Hillhouse Avenue to create new and improved homes for the Linguistics department, the Institution for Social and Policy Studies, and the Data-Intensive Social Science Center. This month, the university also launched the Yale Jackson School of Global Affairs, its first new professional school in more than 40 years. The school will expand into T.M. Evans and Steinbach Halls at the north end of Hillhouse this summer. This work on Trumbull Street and upper Hillhouse Avenue is part of a series of ongoing improvements in the area that will form a powerful crossroads of research and study.
An Innovation Corridor Along Lower Hillhouse
In February, President Salovey and I announced the creation of the School of Engineering & Applied Science (SEAS) as an autonomous faculty body within the university and the expansion of its faculty by 30 positions. Some of the buildings in the lower Hillhouse Avenue area date back to the turn of the last century and need reimagining. Yale is developing a plan to renovate and revitalize the facilities on lower Hillhouse that currently house engineering departments as part of an effort to further the university's excellence in this field. Creation and implementation of this plan will happen over the next decade and will involve a transformation on a similar scale to the improvements on Science Hill and the Humanities Quadrangle.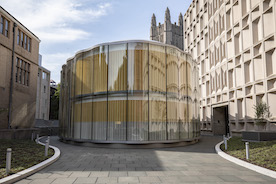 The first of the lower Hillhouse renovations, scheduled to begin in 2023 and conclude the following year, will be the conversion of Kirtland Hall into a dedicated classroom building. This will centralize instruction into a modern, fully accessible facility while relieving other spaces in the innovation corridor for renovation. A comprehensive model of plans for lower Hillhouse will be communicated in the coming months. The Tsai Center for Innovative Thinking at Yale (Tsai CITY) has already provided a model for how effective spaces built for convening and catalyzing ideas can be achieved. Reimagining lower Hillhouse in a similar spirit and on an even larger scale will supercharge Yale's innovation community and transform SEAS.
Center Stage for the Arts and Humanities
Yale is renowned for its strength in the arts and humanities. Over the past two decades, to support continued excellence in these areas the university has built or renovated buildings for the Schools of Art, Architecture, and Music, the Yale University Art Gallery, and the Yale Center for British Art. This week, we are celebrating a new era for the Humanities at Yale with the dedication of our largest investment to date, the creation of the Humanities Quadrangle (HQ) at 320 York Street. The facility's transformation is extraordinary, including stunning additions such as the 190-person lecture hall and 90-person film screening room that were unearthed from below the quad. The Gothic highlights were restored, and the 3,459 stained-glass windows were historically reconstructed with modern thermal efficiency. Even more important than the striking beauty of the restoration is the future HQ helps us envision. We have collocated 15 FAS departments and the Whitney Humanities Center into a single facility that supports their missions with various new gathering and teaching spaces. In so doing, the facility manifests Yale's ongoing commitment to the education and community of humanists at Yale. As FAS Dean of the Humanities Katie Lofton has eloquently described, HQ enables the university community to look toward and imagine "the horizon of knowledge." 
At 82-90 Wall Street, a comprehensive renovation will produce new modular classroom space, a new academic lounge, offices, and exterior social spaces with a connection to the neighborhood. We envision these as updated homes for the FAS Program in Ethnicity, Race, and Migration (ER&M) and the Yale Center for the Study of Race, Indigeneity, and Transnational Migration (RITM). Their complementary missions advance rigorous, innovative research and teaching in the intellectual traditions that make up our multicultural, multiethnic, and multiracial world and foster understanding of key perspectives that are often underrepresented.
We are looking to invest still further in the future of the arts, specifically the dramatic arts. The physical infrastructure supporting Yale's theater and performance spaces is aging and spread thin. Fortunately, we are nearing the fundraising goal needed to begin constructing a new state-of-the-art theater, performance, and education facility at the corner of Crown and York Streets. This facility will be the new home to the David Geffen School of Drama, the Yale Repertory Theatre (YRT), and the FAS Theater, Dance, and Performance Studies Program. It will also provide rehearsal space for the Yale Dramatic Association (Dramat), the second oldest extracurricular theater group in the country. We expect the new facility will include a proscenium theater with a fly tower and orchestra pit, a studio theater, green rooms, rehearsal studios, and production shops. It will usher in a new era of talent and storytelling in New Haven, while growing Yale's tradition of artistic accomplishment.
Medicine, Molecules, and the Mind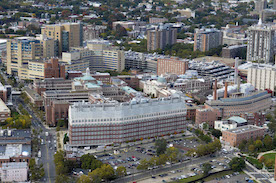 We are also making significant investments to advance our academic mission at the southern end of campus. A major renovation across seven floors of the 100 College Street building will bring together members of both the FAS and Yale School of Medicine (YSM) to explore the frontiers of the mind. We expect the collocation of the FAS Department of Psychology and the YSM Department of Neuroscience will be catalytic, enabling new ways of thinking about the brain and human cognition. This spirit will be further amplified by the Wu Tsai Institute, which bridges these disciplines and will have its home in the new building. 
Next door, the steel girders of the new 101 College Street building have been assembled. This project will help New Haven further develop as a national hub for life sciences and research innovation. Though neither 100 or 101 College is owned by Yale, the university will be an anchor tenant in both facilities and will lease approximately 125,000 GSF. We will also support almost 50,000 GSF of bioincubator space in 101 College for local startups. These two buildings will serve as important physical and conceptual bridges between our medical and central campuses. 
Building Sustainability, Resilience, and Community
All of these projects herald new homes and new opportunities for study and research. But it will always be true that the largest portion of our Yale community occupies buildings that have not undergone a renovation in the past few years. Recent weather-related impacts on campus have highlighted the need for increased resiliency on our campus in preparation for extreme weather and ensuing issues like flooding and power disruptions. Continued routine (but no-less-critical) maintenance and testing of Yale's facilities remain essential to ensuring that our academic and residential environments safely and effectively support our work. This month, we are fortunate to welcome Vice President for Facilities and Campus Development J. Mike Bellamy, who brings decades of global experience managing large-scale capital projects and infrastructure maintenance. 
As we advance our academic priorities, space will be a critical resource. Properly managing this resource means constructing only the space we need while efficiently using the spaces we have. To strengthen the deliberative processes around space allocation and assignment, I have convened a faculty Space Planning Advisory Committee. It will play the role for university space that the faculty Budget Advisory Group plays for university budgets. This group's input will be vital in helping ensure our facilities are utilized in ways that best support Yale's priorities.
Of course, buildings are just empty spaces without vibrant communities. The last few years have proven that our connections extend well beyond the walls around us. The return to campus has offered an extraordinary chance to appreciate these connections and renew our collective ambitions. Thank you for all you do to bring our campus so fully to life. 
Sincerely,
Scott Strobel
Provost
*Images courtesy of Yale University and photographers Andrew Hurley, Jack Devlin, and Dan Renzetti