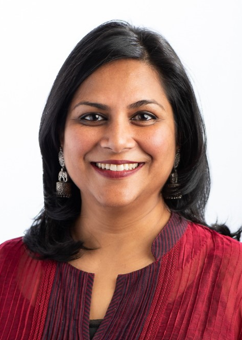 Chief of Staff and Associate Provost for Strategic Initiatives
Address:
2 Whitney Avenue (Whitney Grove Square Bldg), Suite 400,
Nilakshi Parndigamage serves as the Associate Provost for Strategic Initiatives and Chief of Staff. She helps advance university priorities in the areas of academics, development, facilities, finance, and personnel. She designs and executes strategic initiatives that support the university's academic priorities, assists with the development and drafting of university policy, and closely collaborates with the Development Office on major fundraising initiatives.
Prior to joining the Provost's Office, Nilakshi was the Dean of Ezra Stiles College at Yale. She was a lecturer of Political Science, taught a course on wrongful convictions and criminal justice reform, and worked extensively with students, faculty, and administrators across the university. 
Outside of her experience at Yale, she has worked at the U.N. International Criminal Tribunal for the Former Yugoslavia in the Hague, the International Center for Transitional Justice in Cape Town, and at the Institute for International Law and Human Rights in Washington, D.C. and Baghdad. Before joining Yale, she specialized in complex commercial litigation at a leading global law firm where she also maintained a pro bono practice.
Nilakshi, who is from Sri Lanka, is a Senior Fellow of the Humanity in Action human rights organization, a fellow of Ezra Stiles College, and an advisory board member to the Dwight Hall Center for Public Service and Social Justice at Yale.  She received her J.D. from the University of Virginia School of Law and B.A. from Yale College.