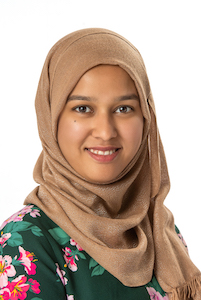 Special Adviser for Strategy and Academic Business Operations
Address:
2 Whitney Ave. (Whitney Grove Square Bldg), suite 400, Room 465
Naureen joined the Office of Strategic Analysis as a Swensen Fellow in 2017. Prior to working at Yale, Naureen worked as a financial  analyst at the Consumer Financial Protection Bureau, focusing on payday lending and financial literacy. Naureen currently serves on the Board of Directors of New Haven Reads, a local nonprofit empowering the academic success of K-12 students through improved literacy skills. She is also a resident fellow of Grace Hopper College and co-chair of the Asian Network at Yale.  In her free time, Naureen loves to bike on the Farmington Canal Trail, play board games with friends, and watch Bollywood movies. Naureen received a B.A. in Economics and Political Science from Yale College in 2014 and a M.A. in Economics from Columbia University in 2017.