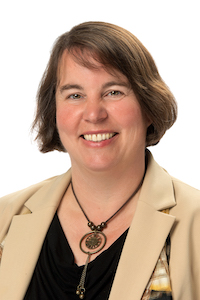 Strategic Projects Advisor to the Vice Provost for Research
Address:
2 Whitney Avenue (Whitney Grove Square Bldg), Suite 400, Room 459
As Strategic Projects Advisor, Angie Hofmann works closely with Yale's Vice Provost of Research on supporting the sciences across the University. In her role, she is assigned to strategic projects related to the science priorities at Yale and leads deliberate communications efforts for the research team.  
Before joining the VPR team in 2018, Angie was Director, Corporate and Foundation Relations, Science and International Initiatives, in Yale's Office of Development where she managed some of Yale's most important prospects and played a key role in fundraising from leading international corporations and foundations.  As part of this position, she also oversaw a team of professional scientific writers and the operational management of the Corporate and Foundation Relations office.
Angie holds a PhD in molecular biology and biochemistry from the University of California, Irvine, and was a post-doctoral fellow at the Max-Planck-Institute of Molecular Genetics in Berlin, Germany. She is the founder and President of SciWri Services, a venture providing editing, training, and consulting services worldwide. She is the author of two books that have become standards in the field of scientific communication: Scientific Writing and Communication – Papers, Proposals, and Presentation (Oxford University Press, 4.ed., 2019) and Writing in the Biological Sciences (Oxford University Press 3.ed., 2018).