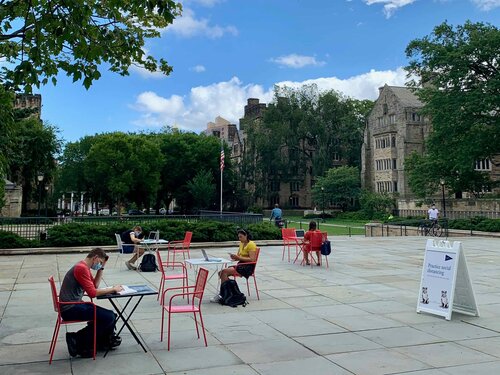 Thursday, September 24, 2020
Key messages
COVID continues to have a significant impact on the university's finances and operations.
The ongoing pandemic and the disruption of the U.S. economy mean that the financial outlook for Yale remains uncertain. We need faculty and staff to remain cautious about spending and making new financial commitments.
The results for the fiscal year ending in June 2020 were better than expected, thanks to the work of faculty and staff across campus who restrained spending, the generosity of our donors, the outstanding efforts of the Yale Investments team, and the unanticipated recovery of financial markets.
Given these results, we are able to continue support for faculty, staff, and students through previously announced actions as well as some new actions announced here.  
To: All Faculty and Staff
Dear Yale Faculty and Staff Members,
The COVID-19 pandemic has resulted in extreme hardship for those around the world. It has been an extraordinarily challenging year, especially for communities who have been directly affected by the virus. While the pandemic is primarily a public health crisis, it continues to impact financial markets and the global economy.
As we wrote to you in early April, COVID-19 has a significant impact on our university and our financial outlook remains uncertain. We are writing today with an update on the university's financial situation.
In the months since we last wrote to you, faculty and staff across campus have done an exceptional job of restraining spending and avoiding unnecessary new financial commitments. For that, we thank you. We deeply appreciate your work and your commitment to our students and to the mission of our university.
The measures we have taken during this pandemic collectively speak to and reinforce Yale's core priorities:
Create a campus community that safeguards the health and wellbeing of its members
Sustain and advance the quality of teaching and research on campus
Protect and enhance the diversity and excellence of Yale faculty, staff, and students
Support for the Yale Community and the Costs of COVID-19
Taking care of the Yale community and building a robust public health infrastructure on campus has been our highest priority during the pandemic. In order to minimize the financial impact on members of our community, we were able to avoid drastic measures taken by peer institutions, which included furloughing employees, reducing salaries, or suspending contributions to employee retirement plans. Instead, we chose to support and invest in our faculty, staff, students, postdoctoral scholars, and the New Haven community. These actions include the following:
Over $25 million to build a public health infrastructure on campus, which includes providing regular and free COVID-19 testing for all members of the Yale community, contact tracing support, free personal protective equipment, and the creation of isolation spaces on campus.
$13 million in increased financial aid, health care, and travel support, as well as other direct support for students in Yale College, the Graduate School of Arts and Sciences, and the professional schools to mitigate unexpected pandemic-related costs.
$37 million in continued pay for staff who could not work from home but were unable to work on campus because of public health concerns, as well as premium pay for staff working on campus early in the pandemic.
$3 million raised for the Yale Community for New Haven Fund, which includes a $2 million donation from the university to support local non-profit organizations providing food, shelter, personal protective equipment, educational assistance, the delivery of healthcare, and assistance to local businesses.
In addition to the increased costs we incurred, the university also suffered a significant loss in revenue. In the spring, Yale refunded over $20 million to students for room and board charges when public health conditions led to the unexpected closure of campus residences. Due to deferred and canceled clinical and other care procedures, the Yale School of Medicine experienced an $80 million reduction in clinical revenue in the last fiscal year ending June 30, 2020 (FY 20).
Even greater incremental costs and reduced revenues are expected in the current fiscal year, which ends June 30, 2021 (FY 21). For example, enrollment in Yale College and the professional schools is lower this year because of deferrals and leaves, and many students are studying remotely. This shift has already reduced revenue from tuition, room, and board by over $80 million. This year, we will also lose revenue as a result of cancelled theater and other arts productions, athletics events, conferences, summer programs, and university parking. At the same time, we will increase our spending to further enhance our public health infrastructure, support technology for distance learning and remote work, enhance cleaning services, and procure necessary pandemic-related equipment and materials.
We estimate that COVID-19 has cost Yale more than $250 million in lost revenue and COVID-19-related expense increases so far. Such costs will continue to accumulate. It is in light of this difficult reality that we ask all faculty and staff to remain cautious about spending and to avoid making any new financial commitments.
Update about the Fiscal Year Ending June 30, 2020
Despite the many challenges, the financial results for the year ending June 30, 2020 (FY 20) were better than what we anticipated in the spring.
Thanks to the outstanding efforts of the Yale Investment Office, the endowment finished the year with a 6.8 % investment return. This return is slightly below our annual target rate of 8.25%, but it is better than the negative return that seemed likely during the market selloff in March and April. Although the FY 20 endowment return does not, for the most part, impact the university's budget until the fiscal year ending June 30, 2022 because of our endowment spending policy, this overall result is encouraging. The endowment generates more than one-third of the university's revenue and over half of the revenue outside of the medical school. (Please see provost.yale.edu/budget for more information about the endowment, including the university's spending policy.)
The financial results from university operations for the year ending June 30, 2020 were also better than we expected at the start of the pandemic. The university is still finalizing its audited financial statements for the last fiscal year, which will be made public at the end of October, as we do each year. However, we can now share some preliminary results. Despite all the additional COVID-related expenses and revenue shortfalls, the university will report a surplus from operations of approximately $125 million within an overall $4,270 million university budget. This positive result provides us with a buffer for the year ahead.
Most of this surplus is earmarked for school- or department-specific uses and is not available to invest at the discretion of the president and provost. In fact, 89% of our operating surplus is in funds that are accumulated as reserve balances in individual schools, departments, programs, or faculty accounts. That is the nature of Yale's decentralized financial structure. The positive results have allowed many schools and units at Yale to build up reserves to cushion against negative outcomes in the uncertain future. That cushion will be essential this year for units experiencing some of the revenue losses described above. These funds also may be needed by endowment-dependent units that had counted on a higher endowment return.
University revenues for the year ending June 30, 2020 were better than anticipated early in the pandemic. Gifts from our alumni and other benefactors helped us finish the year stronger even after an abrupt slowdown in the early spring. Federal and non-federal sponsors of research funding maintained their commitment to the important work of our investigators across campus. As noted above, even though clinical revenues were affected negatively by the pandemic, for now these revenues seem to be slowly rebounding. Although the School of Medicine suffered a deficit for the year, it was smaller than our spring forecast, and we are grateful that the School of Medicine has adequate reserves to cover this shortfall.
Overall, the financial results of the past fiscal year provide us some reassurance during an otherwise uncertain time. Even though the pandemic's total effect on our finances is unknown, the university is entering the current fiscal year stronger than initially expected, which will help us brace for what lies ahead.
Moving Forward on a Few Select Priorities
As we move forward with caution, we would like to announce a few select actions that are guided by our resolve to support the Yale community during this crisis and underscore our commitment to the university's academic priories.
Yale is partially lifting the hiring freeze for faculty recruitment. We will approve at least 60 new and continuing faculty searches across the professional schools and the Faculty of Arts and Sciences to advance our academic priorities and expand the diversity and excellence of our faculty.
All full-time faculty and managerial and professional staff earning less than $85,000 per year will receive a salary adjustment of 1.5%, effective October 1, 2020.
FY 22 annual salary increases for all managerial and professional staff will be accelerated from September 1, 2021 to July 1, 2021, returning to the annual timeline for merit increases in effect before the 2008-2009 economic crisis.
Yale will continue to provide robust financial aid to students, especially those who will face unexpected financial hardship as a result of the pandemic.
The university remains committed to our home, the city of New Haven. We will continue to allocate remaining funds from the Yale Community for New Haven Fund and enhance support for education programs offered to local students. The university will also continue to work closely with the city to accelerate the growth of the local economy and counter the negative impact of the pandemic.
We will advance select facilities projects necessary to achieve our academic mission and create much-needed teaching, research, and social spaces on campus. Specifically, we will move forward with the Humanities Quadrangle, Tobin Center, 100 College Street, Schwarzman Center, and the Peabody museum projects as well as the renovation of Kline Tower.
There are many more actions we would like to advance; however, it is still not business as usual, and we must remain prudent. We look forward to taking additional steps when the public health situation improves and when our finances allow us to do so.  The timing and scope of such actions will depend on how the financial future unfolds.
Thank you for your continued support as we navigate this challenging period. We greatly appreciate your efforts and your commitment to the university's mission, to its students, and to the broader community. Together, we will address our current challenges and create a stronger Yale.  
Sincerely yours,
Scott Strobel
Provost
Jack Callahan
Senior Vice President for Operations