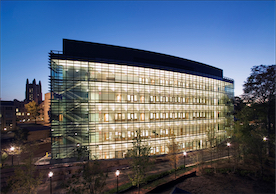 Tuesday, February 22, 2022
Dear Colleagues,
At Yale, our mission is to improve the world through research and scholarship, education, preservation, and practice. The importance of this work, amid many pressing global issues, has never been more evident. Fortunately, the university's financial situation has afforded us a unique opportunity to think boldly about the present and future applications of our work and Yale's role in addressing global challenges. Today, we are excited to announce a new investment in the School of Engineering & Applied Science (SEAS) and the Faculty of Arts and Sciences (FAS) that will accelerate our educational and research missions.
Recruiting and retaining a diverse community of world-class faculty is one of the university's top priorities. Because the quality of our faculty is so critical, we are devoting substantial resources to support its excellence across many different disciplines, as we wrote in the fall.
We will add forty-five faculty positions and complete a modernization of the supporting campus facilities, which together amount to a landmark investment in the university's educational and research enterprises. The new faculty positions in both SEAS and the FAS will expand Yale's expertise in traditional and emerging fields, helping build connections among them as well as strengthening areas of strategic importance for the university. With this expansion, we will also align relevant organizational structures effective July 1, 2022, to create greater efficiencies in pursuing faculty excellence and diversity and the university's mission.
The School of Engineering & Applied Science
The university is making a substantial investment in SEAS so that it can even more aggressively pursue breakthrough research and collaborative innovation. These resources will provide SEAS operational flexibility to enact the recent faculty-led SEAS Strategic Vision Report. As detailed in that report, SEAS research will focus on initiatives in artificial intelligence, biological systems, materials science, mathematical modeling, and what we call "robotics for humanity." The report's goals are purposefully aligned with our University Science Strategy, which emphasizes campus-wide investments in several thematic areas. An even stronger SEAS will enhance Yale's ability to pursue research and innovation in other priority areas across campus.
The current size of the SEAS ladder faculty is ninety-two. We will increase by thirty the number of SEAS faculty slots available for hiring in the six departments of the school. These additions afford a further increase to the size of the Computer Science department—the engineering department with the largest number of undergraduate majors—and advance materials science, whose interconnections across many fields will make for outsized impact. They will also help us bolster other areas where faculty are working at the vanguard of engineering and applied science. Additionally, exploring joint appointments around Yale will create opportunities for novel academic programming that accentuate our current strengths and increase our innovative capacity.
In addition to these faculty positions, we will make a significant investment in the school's physical infrastructure, some of which dates to the turn of the last century. We will break ground for the Physical Science & Engineering Building (PSEB) on Science Hill next summer, which will serve both the FAS and SEAS and is scheduled to be completed in 2027. Upon completion, this purpose-built facility is likely to be the largest building investment in Yale's history. To complement this space, and further accommodate the growth of engineering and applied science, we are also developing a comprehensive renovation plan to be implemented over the next decade, reimagining the research and teaching spaces on lower Hillhouse Avenue.
To maximize its impact, we have reconsidered the school's organizational structure. SEAS was announced as a school in 2008 and operated in that way for almost a decade, even while the SEAS faculty has been considered a division of the FAS. Beginning July 1, 2022, Yale will have a distinct faculty of Engineering and Applied Science led by the dean of SEAS. The SEAS dean and the FAS dean will continue to work closely together, each reporting directly to the president and provost. SEAS will operate as a distinct budgetary unit, with its dean overseeing the allocations for SEAS faculty salaries, faculty start-up packages, and the school's operating budget, including costs associated with staffing and facilities. There will be no changes to undergraduate and graduate student admissions and registration processes.
This organization will allow SEAS to reimagine its culture, expand its research, and optimize its partnerships both within and outside Yale. We expect it to be better integrated than ever with Yale's graduate and professional schools. This change to SEAS builds upon years of thoughtful input from many members of the university community who have advocated for an increasingly autonomous path for engineering at Yale.
We are pleased that Jeffrey Brock has agreed to be reappointed as dean of SEAS. We have every confidence that in his new, expanded role, he will lead the school through this transformation. We are fortunate to have someone with his knowledge of SEAS, of Yale, and of the broader scientific and technological environments to lead this important transition. To focus on these responsibilities, Dean Brock will step down from his role as the FAS dean of science effective June 30, 2022. We are grateful to him for his willingness to serve in both roles for the past three years. FAS Dean Tamar Gendler will begin the search for a new FAS dean of science in the coming days. She will seek to identify a leader who will continue the tradition of close coordination and partnership between FAS science and SEAS.
The Faculty of Arts and Sciences
In addition to these commitments in engineering and applied science, we will make major investments in the arts and sciences. First, we will add fifteen incremental faculty positions to the FAS. These positions are on top of the gift-funded and initiative-supported slots that have been added to the FAS headcount in recent years. About half of these positions will be allotted to data-intensive social science, a critical set of fields whose scope and importance were articulated by Yale faculty in the report of the University-wide Committee on Data-Intensive Social Sciences. These slots will also support other FAS priorities: investments in faculty diversity and excellence, areas of historic strength and emerging interest, and work that crosses traditional disciplinary boundaries. Further, administrative changes will be made so that the FAS dean will have full oversight of FAS faculty salaries, faculty start-up packages, and the FAS's operating budget, including staffing and facilities-related expenses.
We will continue our aggressive efforts to enhance the physical spaces necessary for research and teaching in the FAS. Within the past few years, we have opened two state-of-the-art facilities: the Humanities Quadrangle and the Yale Science Building. Other improvements will continue in rapid succession in the coming years. This year, we will open the new building at 87 Trumbull Street, home to the Tobin Center for Economic Policy, uniting faculty from the FAS Department of Economics into a single space. Next year, we will complete the renovation of Kline Tower, which will house the FAS Departments of Statistics and Data Science, Mathematics, and Astronomy. Soon thereafter, the first phase of the Physical Sciences and Engineering Building will be completed, which will house members of the FAS Department of Physics and faculty in SEAS, and we will fit out 100 College Street to host the FAS Department of Psychology, the School of Medicine Department of Neuroscience, and the Wu Tsai Institute. Even with these investments, research space on campus will continue to be a precious resource, requiring us to use existing spaces efficiently, particularly as the faculty size expands.
Our confidence in growing and investing in the FAS in this manner is bolstered by the creativity, consistency, and collaborative spirit with which Dean Gendler has approached this work since her appointment as dean of the FAS in 2014. Her leadership will continue to be a lodestar during this transition, and we are grateful for the abundant talent she brings to her critical leadership role.
Summary
Deans Brock and Gendler will be writing to SEAS and FAS staff and faculty later today with additional details about this announcement.
These investments in new faculty positions bring the target size of the combined FAS and SEAS faculties to more than 750 tenure track and tenured positions. SEAS and the FAS will both engage in robust faculty hiring over the next half decade so that Yale may capitalize on this unprecedented opportunity to reimagine our future and recruit the next generation of scholars, teachers, and leaders.
These bold commitments are made possible by the legacy of generous donors and their contribution to the university endowment over many decades. They are part of a broader vision for Yale that will extend through the current For Humanity campaign and to many other areas of campus.
We offer our profound appreciation for all the work that has led us to this exciting moment—to Deans Tamar Gendler and Jeff Brock for their visionary leadership, to the faculty who offered their commitment and expertise while serving on various strategic planning committees, and to all of you for your insight and candor that have led to this transformative investment in our faculty. We look forward to the arrival of the next generation of scholars, educators, mentors, and colleagues who will advance the highest ambitions of our university.
Please join us in looking forward to all that is to come.
Sincerely,
Peter Salovey
President
Chris Argyris Professor of Psychology
Scott Strobel
Provost
Henry Ford II Professor of Molecular Biophysics and Biochemistry