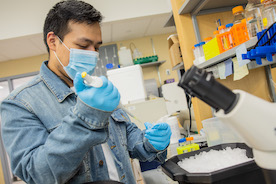 We write to invite you to an in-person town hall on May 27, 2022 at 2 pm in the YSB Marsh Lecture Hall for an update on the planning for the Advanced Instrumentation Development Center (AIDC) in the Physical Sciences and Engineering Building (PSEB). The event will also be streamed online (Zoom details will be distributed as we near the event date).
Instrumentation development was identified as one of the cross-cutting initiatives in the University Science Strategy report. Following the Yale Days of Instrumentation in 2018 and 2020, Provost Strobel tasked an Instrumentation Task Force to consider how the university might provide new, innovative physical space and resources to support instrumentation development across disciplines and campus as part of the planning of the PSEB.
In spring of 2021, the Task Force presented a vision for development of the entity that is now named the Advanced Instrumentation Development Center.  Since fall 2021, an AIDC Committee has worked with Ballinger Architects to develop physical spaces that support the vision and mission of the AIDC.  A document outlining the vision and goals for the AIDC can be found online.
We are excited to share these plans with you and receive your feedback on both the mission of the AIDC as well as the physical space that is being planned.  You can also leave your comments online at this webform.
Please feel free to distribute or post this invitation for colleagues who may wish to join. 
We look forward to seeing you on May 27, 2022!
Lisa D'Angelo (co-chair)
Karsten Heeger (co-chair)
On behalf of the Instrumentation Task Force and AIDC Committees:
Lisa D'Angelo (co-chair), Associate Provost for Research
Karsten Heeger (co-chair), Professor and Chair, Physics; Director, Wright Lab
Jeffrey Brock (ex officio), Dean, School of Engineering & Applied Science; Dean of Science, FAS; Zhao and Ji Professor of Mathematics
Joerg Bewersdorf, Professor of Cell Biology and Biomedical Engineering
Todd Constable, Professor of Radiology and Biomedical Imaging, Neurosurgery and Biomedical Engineering
Mark Johnson, Arthur T. Kemp Professor of Chemistry
Rajit Manohar, John C. Malone Professor of Electrical Engineering, Professor of Computer Science
James Nikkel, Research Scientist, Physics; WL Associate Director of Instrumentation and Education
Peter Raymond, Professor of Ecosystem Ecology
Ben Myers, Director of Research Cores
Steve Brown, Associate Director, Yale Facilities Planning Administration
Christie Day, Senior Architect, Planner, Yale Facilities
Dev Hawley, Director, University Planning
Meg Kirkpatrick, Associate Provost for Research
Sarah Miller, Assistant Dean, Science & Engineering
Julie Paquette, Director of Energy Management, Yale Facilities
Chris Incarvito, Associate Provost for Science Initiatives