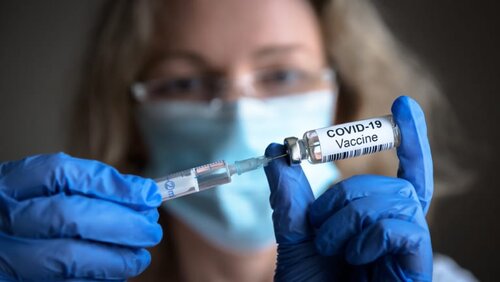 Dear Members of the Yale Community,
For more than a year, we have anticipated the day we can return fully to on-campus teaching and learning. With improving public health conditions, we are optimistic that we can do so for the fall semester. As we plan for this exciting transition back to campus, our top priority will continue to be the health and safety of students, faculty, staff, and individuals with whom we interact outside of our campus. 
A high percentage of vaccine coverage is critical for a safe return to in-person university operations. Therefore, we are requiring all faculty, staff, and postdoctoral and postgraduate trainees to be fully vaccinated against COVID-19 by August 1. This decision follows our announcement in April of the vaccination requirement for all undergraduate, graduate, and professional school students. 
Our decision is based on the recommendation of Yale's experts in public health, medicine, and nursing, as well as discussions with staff and faculty across campus. The university also is engaged in conversations with its union partners regarding the implementation of this policy. 
There is abundant evidence that vaccines are the strongest tool we have for preventing the spread of COVID-19 and that they are safe. For example, we are already seeing notable reductions in infection rates as levels of vaccination have increased. As a leading global research university, we have a responsibility to demonstrate to others the importance of taking actions based on evidence. 
Please review the preliminary information below about ways to be vaccinated, registration requirements, exemptions, and other considerations. In the coming days, faculty, staff, and postdoctoral and postgraduate trainees will receive additional information regarding returning to on-campus work. University leaders will continue to provide regular updates about our plans for the fall semester over the next few months.
Ways to receive the vaccine
Vaccinations are available through the Yale COVID-19 Vaccine Program and Yale Health at the Lanman Center on campus. Yale New Haven Health also is offering both walk-in and scheduled vaccination appointments. Many additional options are available throughout the state. We encourage all those who have not yet been vaccinated to do so at their earliest convenience.
Registration requirements
Beginning June 1, 2021, faculty, staff, and postdoctoral and postgraduate trainees who have received their COVID-19 vaccination outside of the Yale COVID-19 Vaccine Program will be required to submit their vaccination record to the university. Instructions will be forthcoming.
Having records of individuals' vaccination information is essential to the university's efforts to protect the campus and surrounding communities and plan on-campus activities. Knowing the level of vaccination in the Yale community will allow us to take measures to mitigate the risks of a COVID-19 outbreak and will inform our decision-making in the fall and beyond.
Exemptions from the vaccination requirement
Faculty, staff, and postdoctoral and postgraduate trainees may apply for exemption from the vaccination requirement for medical reasons or based on religious or other strongly held personal belief. Everyone will receive an email in the coming weeks about steps individuals will be required to undertake to request an exemption. Yale will require those who receive approved exemptions to undergo regular COVID-19 testing and abide by additional health and safety requirements to protect themselves and others in the community. For individuals who have been fully vaccinated and have registered their vaccination status with the university, regular testing likely will not be required. 
Other considerations
Faculty, staff, and postdoctoral and postgraduate trainees who are not in the New Haven area should consult their state and local authorities either in the United States or in their country of residence for information about vaccination availability and scheduling in their region. For those unable to obtain vaccination appointments before returning to campus, Yale will assist you in receiving vaccinations prior to or concurrent with your return to campus.
***
For over 15 months, we have worked tirelessly to protect each other from illness. Yale's vaccination requirements are an acknowledgement and an extension of these efforts. At this turning point in the pandemic, the administration of each vaccine brings us one step closer to the end of this public health crisis. We are grateful for all you have done for Yale and our community's health. To those who have yet to be inoculated, please join us in becoming vaccinated against COVID-19.  
Sincerely,
Peter Salovey
President
Chris Argyris Professor of Psychology
Scott Strobel
Provost 
Henry Ford II Professor of Molecular Biophysics & Biochemistry