Wednesday, September 1, 2021
Dear Members of the Yale Community,
At Yale, we help people learn, grow, and change their lives and our world for the better. Welcoming students to campus for in-person teaching and learning this fall reminds us of the extraordinary nature of this work. So, too, do the countless contributions of our faculty and staff, some of whom have been here every day throughout the pandemic, and some of whom are now returning after working remotely for months. While the COVID-19 pandemic continues to challenge us in many ways, our proven ability to respond and adapt has positioned us well for our return to campus. Our community's high vaccination rate and the public health precautions we have implemented provide further confidence as we begin the academic year.
We write today not to announce a new policy or program, but to share updates about our campus. If you have been away or if you haven't taken time to wander around recently, you will find the campus has undergone some significant changes since you last saw it. Major projects that were started before the pandemic have been completed, and several more are now underway. These transformative changes have a common focus. They are designed to help Yale—to help you—better our world through your efforts. We are so excited for you to explore these spaces and put them to good use. We hope the brief introductions below are helpful.
Campus Center
You will see some of the most significant changes in the heart of campus. Portions of Wall and High Streets have been converted into accessible, fully pedestrian thoroughfares that strengthen the connections between several of our most important buildings on central campus. This part of Wall Street has been renamed Alexander Walk in honor of Bruce Alexander '65, who embodied Yale's communal spirit throughout his 20 years of service to the university and played a critical role in the revitalization of New Haven.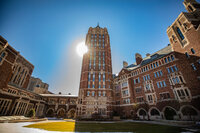 At the west end of Alexander Walk is 320 York Street, which has undergone a complete renovation. The resulting Humanities Quadrangle (HQ) will have an immediate and long-lasting impact on the strength of the humanities at Yale. HQ unites 15 Faculty of Arts and Sciences (FAS) departments and programs under one roof, alongside a range of new classrooms and gathering spaces. HQ prioritizes innovation, inclusion, and interdependence and will help facilitate both faculty cooperation and student intellectual autonomy. At the center is Swensen Tower, honoring the incredible legacy and singular service of Yale's late, visionary chief investment officer, David Swensen. It has been transformed from graduate housing into shared workspaces for graduate students and faculty. The renovation of Baker Hall and the construction of 272 Elm Street have provided updated and centrally located graduate housing to free Swensen Tower for this conversion.
The blend of history and modernity in HQ is striking. New windows throughout the facility were reconstructed in Yale's characteristic Gothic style but with modern thermal efficiency. At the base of the building, we removed 30,000 cubic yards of soil from the courtyard to construct two contemporary spaces below ground—a 190-person lecture hall and a 90-person film screening room—that will further integrate the teaching and research missions of our humanistic pursuits.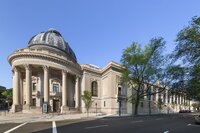 At the other end of Alexander Walk is the newly opened, state-of-the-art Schwarzman Center. This facility underwent a complete renovation, including an expansion onto Grove Street. It will supplement Yale's existing social and cultural spaces and serve as a hub for many university activities. Performance spaces, like the new stage in The Underground on the lower level and the beautiful conversion (with theatrical lighting and a sprung floor) of The Dome at the top of Memorial Hall, have been outfitted with modern equipment to support fully immersive in-person and virtual experiences. Our beloved Commons dining hall, which opened today at lunch, now features kitchens where students can enjoy various cuisines from around the world. The Schwarzman Center will be an integrative setting for the university and the surrounding New Haven community.
Science Hill
Just before the pandemic began, we dedicated the Yale Science Building. In addition to being a new home for the Department of Molecular, Cellular and Developmental Biology, this facility allows us to convene many faculty from all over campus whose work intersects with the life sciences. At the base of the building is Steep, a dining area where both visitors and occupants of the surrounding buildings can come together and bridge disciplines. Steep looks out over Science Hill and Sachem's Wood, a major landscaping project whose connections mirror the interconnective spirit of our University Science Strategy. 
Work is now underway to transform Kline Tower, Yale's tallest building. This comprehensive renovation will prepare Kline to become the new home for the Departments of Statistics and Data Science, Mathematics, and Astronomy, each in new three-story departmental clusters joined by open central stairways surrounded by faculty offices. By relocating the building's equipment-heavy laboratories to the nearby Yale Science Building, we freed up an entirely new floor, where we will advance our priorities in data science.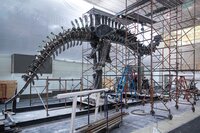 A fossil stone's throw down the hill, the Peabody Museum is also being comprehensively renovated. The painstaking decommissioning and demolition process began just before the pandemic and continued throughout the past year. It was not a trivial undertaking to deconstruct and temporarily relocate ten fossil skeletons to Canada for cleaning, repair, and adjustment, including the popular Brontosaurus. Even bigger than a Brontosaurus, great care was taken to preserve in place the renowned, 110-foot The Age of Reptiles mural, one of the largest of its type in the world. Now the work of reconstruction and reimagining in the Peabody Museum has begun. The biggest change will be a new four-story, nearly 60,000 square-foot addition at the museum's center that expands its ability to support natural history research while increasing the educational offerings to our Yale and Connecticut communities.
An Exciting Time at Yale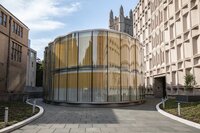 In describing these changes, we have barely scratched the surface of so many other remarkable projects. The outfitting of 100 College Street will connect our medical and central campuses, as well as our educational and research endeavors. It will be home to the Wu Tsai Institute and faculty from across campus, including the Departments of Psychology and Neuroscience. 101 College Street will soon become a hub for New Haven biotech. The Tsai Center for Innovative Thinking (Tsai CITY), a futuristic, oval glass and steel structure with a modular interior, showcases the importance of ideation space for Yale's student entrepreneurial community. Slated to open next year, the Tobin Center for Economic Policy's new location on Trumbull Street furthers Yale's focus on data-driven research and its impact on policymaking. 
Regardless of where one sits, studies, or works on campus, it is the combined impact of all our contributions that enables our success. Consider that just one of these larger construction projects requires as many as 300–400 individuals working in choreographed coordination. The Office of Facilities has safely managed these enormous undertakings and done so amid the added precautions necessitated by the pandemic. Our construction partners have been essential in carrying out this work responsibly and efficiently. Some 1,500 workers from all around Connecticut have braved all manner of heights and elements to help these buildings and grounds take shape. Our generous alumni, donors, and institutional partners have invested in Yale and made these projects possible through their partial or full funding support because of how strongly they believe in our mission.
This is an exciting time at Yale for so many reasons. For your patience during these large construction projects, for your partnership in carrying out our mission, and for all you do to make our university so extraordinary: thank you.
Sincerely,
Peter Salovey
President
Chris Argyris Professor of Psychology
Scott Strobel
Provost
Henry Ford II Professor of Molecular Biophysics and Biochemistry