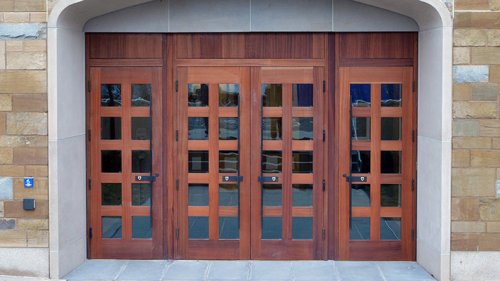 From: Ben Polak, Provost [mailto:provost@yale.edu]
Sent: Tuesday, March 07, 2017 11:30 AM
To: The Yale Community <itscomm2@yale.edu>
Subject: Building projects: new views on campus
It has become an annual tradition of mine to write about the building projects taking place at Yale.  In last year's update, I wrote about the many cranes dotting the landscape — including one that was so tall it loomed even higher than Kline Biology Tower.  This year there are fewer cranes but no less activity.  We are at an interesting moment in the cycle of construction and renovations, with several major projects just finished, one landmark effort nearing completion, and still others poised to begin.
Even from afar these new and refurbished facilities are changing our skyline.  If you drive into New Haven across the "Q" (the Pearl Harbor Memorial Bridge, recently the subject of its own overhaul), you can see the west tower of Pauli Murray College rising in the distance.  And this is far from the only new view to grace Yale's campus.  On a recent sunny and mild afternoon, I sneaked a secret mocha while sitting on one of my favorite secret benches, the one in the small courtyard behind Blue State Coffee on Wall Street.  I had not been back there for a while, and was stunned by the new vista.  Where there used to be nothing but a parking lot and the back of a dark, grey building, there is now the luminous stone façade of the newly opened Adams Center for Musical Arts.  The center and Hendrie Hall are equally impressive when viewed from the south, a shining presence rather than an unnoticed hull on the New Haven Green.  And the inside is even more inspiring.  Student and faculty musicians congregate, rehearse, and perform in a space that is now worthy of their talents.
The musical complex is not the only part of our campus where new life has been breathed into a formerly humble "back entrance."  Not long ago the York Street wing of Sterling Memorial Library was an overlooked wall that people rushed past on their way to the office or classroom or coffee shop.  Today, the west entry is a fittingly grand gateway into the permanent home of the Center for Teaching and Learning.  There, old has become new and administrative function has been replaced by educational innovation.  The history is palpable from the outside.  Meticulously restored frescoes illustrate the bringing of Yale's first books (by oxcart) to New Haven in 1718 and the arrival of the collections (by motorcar) at Sterling in 1930.  And within, the center is already buzzing, everyone from first-year undergraduates to senior faculty working together, honing scholarly and pedagogical skills.
One of the most beautiful views on campus — to this provost, at any rate — is from the northern end of Hillhouse Avenue at the foot of "Sachem's Wood."  Behind Lichtenstein's "head," a curtain of bright blue scrim fencing stands sentinel over one of our newest projects: the long awaited Yale science building.  Most people find these fences ugly but they fill me with joy, tangible symbols of renewal, of progress.  The fences signal the demolition of a building I have walked past each day for twenty years, each time grimacing slightly that one of Yale's greatest scientists was associated with one of Yale's worst buildings.  But by late 2019 both the temporary fence and the old building will be gone, and an exciting new space for science teaching and research will have risen in their place.  The new science building will bring together faculty, students, and staff from two biology departments, physics, and beyond.  It will house the Quantitative Biology Institute, a 500-seat lecture hall, greenhouses, cryo-electron microscopy, research support facilities, and common gathering space.  The building will be part of not only the transformation of Science Hill but the transformation of science at Yale.  And the grand entrance from Prospect Street — the gateway to all of Science Hill — will be a newly named and newly renovated Gibbs Walk, sitting between chemistry and physics just as Gibbs's work sat at the intersection of those two great disciplines, and leading to the new building just as Gibbs's work led us all to new science, new method, new discovery.
Of course, one of the most momentous changes in our campus footprint is now almost complete.  The two new residential colleges — Pauli Murray College, just south of Ingalls Rink, and Benjamin Franklin College, tucked into the corner between Prospect Street and the Farmington Canal — will be ready to welcome their first inhabitants this fall.  From the outside, the buildings pay homage to their architectural ancestry, not just at Yale (for example, the collegiate Gothic of Branford College) but also their forebears across the Atlantic.  (Near my family's home in Norfolk in the U.K., similar chequerwork exteriors can be found on churches dating to the 13th century, including one where Admiral Horatio Nelson's father was the vicar in the mid-1700s.)  But the true magic of this project is to think of the perspective that students will have from inside the new colleges when construction is finished, as the first cohort of undergraduates moves into them in August.
We have posted a slide show of some of my favorite views at Yale, including a few obscure angles on familiar places, on YaleNews.  If you have an hour or two on a weekend to devote to a fun challenge, walk around campus to see if you can identify them all.
Ben Polak
Provost
William C. Brainard Professor of Economics